Trade day with Concept Flooring Supplies on the 29th!
Oli Wilkins from our flooring team will be on hand for questions and product demos. Grab 5% off all orders placed on the day too!
Join us from 7:30 to 2pm and the Postcode is B66 1AX.
We hope to see you soon!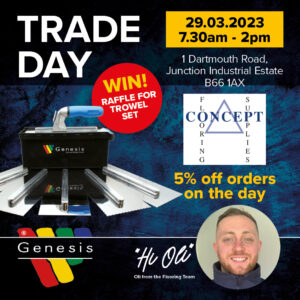 #genesisglobalsystems #tradeday #tuesday #tuesdaythoughts #tuesdaymotivation #flooring #floors